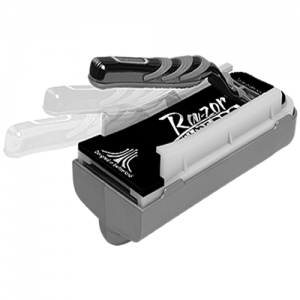 Sharpen your high-quality Razor Blades, as you enjoy a smooth shave every day. Our patented technology assures not only a sharper razor blade for up to 10 months but also protects the gliding strip that protects your skin. Ra-zor Slide Pro can be used easily and safely every day.
How To
Put the Razors head onto the Surface Pad. Use the wide part of the protective rails. Now push the Razor through the Razor Blade Sharpener. No need to apply extra pressure, the Razor Blade Sharpener does that automatically with great precision. Repeat as needed, we recommend 1-3 times after each smooth shave. Caution: Never pull the Razor backward out of the Razor Blade Sharpener. The Blades will cut the Surface Pad immediately and will require replacement.

Make use of good-quality razor blades to get the perfect shave every time. When the razor blades get burred, make use of Ra-zor Slide Pro, the perfect disposable razor sharpener, to sharpen the blades in 3 easy pushes. Fast. Simple. And helps to save the bucks.